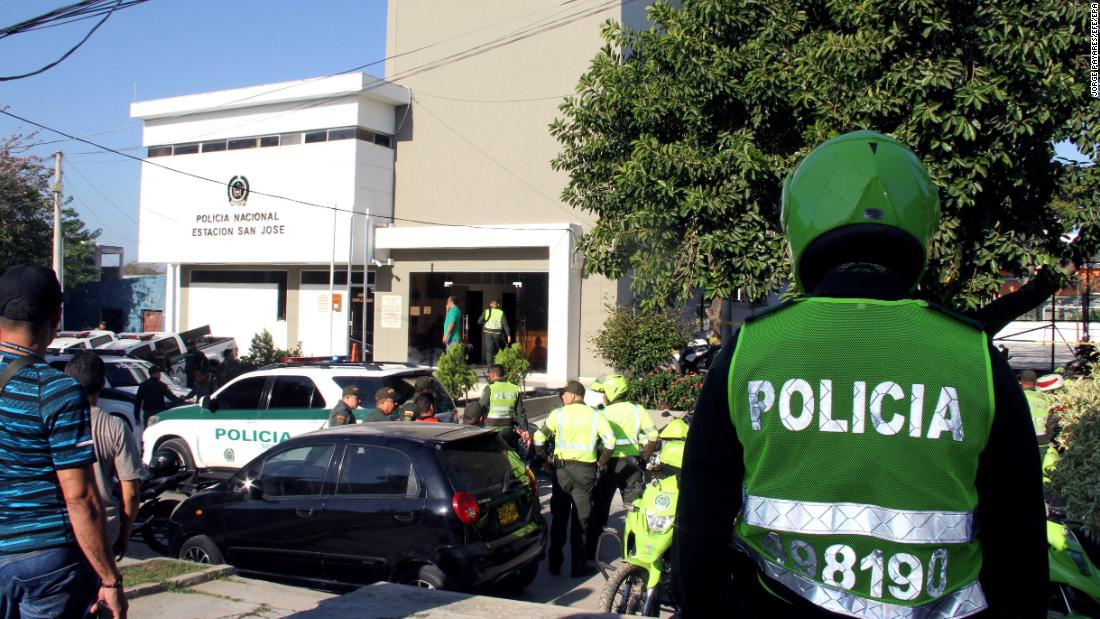 (CNN)At least five Colombian police officers were killed and 42 others injured Saturday morning after a bomb was hurled at a station house in the northern coastal city of Barranquilla, police said.
The attorney general's office identified the attacker as Cristian Camilo Bellon Galindo, 31. Authorities said he was charged with five counts of aggravated homicide, and 42 counts of attempted homicide. Charges related to and terrorism and use of explosives will be filed, authorities said.
Barranquilla Mayor Alejandro Char and metropolitan police Brig. Gen. Mariano de la Cruz Botero told reporters the attack appeared to be in retaliation for recent operations against local criminal organizations, according to the police department's official Twitter account.
Police recovered a radio and notebook linked to the attack.
The metropolitan police posted photos on Twitter of four slain officers, who were identified as Anderson Cano, Fredy de Jesus Lopez, Yosimar Marquez and Freddys de Jesus Echeverria. The name of the fifth slain officer was not immediately available.
Colombian President Juan Manuel Santos condemned the "cowardly attack" via Twitter. He offered his condolences to the families of the dead officers.
Santos traveled to the coastal city of Barranquilla late Saturday to visit the injured officers.
During the visit, he announced 1,500 additional officers will be deployed to the city to support local police.
"Be assured that those responsible will face justice," Santos told reporters at a news conference.
"Terrorism, like in this case, will not make anyone bow down. To the contrary, acts like these, so cowardly, give us more strength to fight more forcefully against these type of criminals, this type of terrorism."
Read more: http://edition.cnn.com/