"I've Already Said Too Much"- Israel Adesanya Spills Game Plan to Beat Yoel Romero – Essentially Sports
Before his match at UFC 248, Israel Adesanya reveals his game plan to beat Yoel Romero.
Within two years of his UFC debut, Israel Adesanya (18-0) scaled to the top of the division. "From nosebleeds to making noses bleed," Adesanya had one of the fastest rises in the UFC. The champion has done everything he said he would do and has not skipped a single step.
After decimating Robert Whittaker at UFC 243, the "Last Stylebender" has been keen on wiping out the middleweight division and solidifying himself as one of the greats. He called all out the toughest fights in the division the moment he became the champion.
Yoel Romero was one of them. Romero is a wrestler who is known for his unpredictable explosive attacks from a distance. He has some of the best knockouts in the division. Although he is 42 years old, the Cuban is dangerous on his feet and many athletes fear to fight him.
Israel Adesanya reveals game plan ahead of UFC 248
So how does one beat such a scary looking athlete? Speaking to "The Schmo," Adesanya believes that Romero will train differently for him. He claims that Romero is probably in the best shape of his life.
Stylebender believes that it is Romero's last chance to claim UFC gold as he has fought for the title twice against Robert Whittaker. Whittaker beat Romero in both the fights. In his last match, Romero also lost a #1 contender's match against Paulo Costa.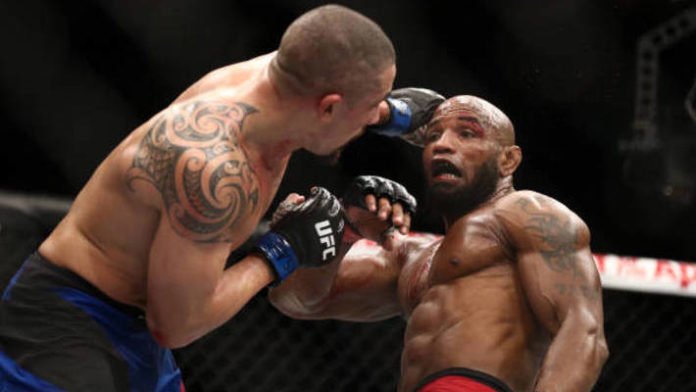 Adesanya said, "This is his last chance to clutch something that I have, something that he has had many chances to get and failed to get."
Despite all the training by Romero, Adesanya believes that it won't be enough to beat him.
"From my two fights in the UFC, look at how I look in the later rounds and look at how he looks in the later rounds."
"He might try and coast and if he coasts, he's gonna be in trouble from the get-go. It's gonna be too late by the time he gets into the deep waters… I've already said too much"
Yoel Romero tends to throw away a few rounds. This is mainly due to his cardio issues which he has shown in the past, especially in his fight against Tim Kennedy.
The Stool Gate Controversy: Did Yoel Romero Pull Off a Dirty Trick
Romero can't wait out on Adesanya as the champion is even more lethal when he is pressurising his opponents. He picks his shots wisely and does not tire out even in a five-round fight. A knockout victory in the later rounds may never materialise for Romero.
Continue the conversation on Telegram, join other MMA fans on MMA Fans Group