WANT THIS POST?
Enter your Email Address
Former champions have criticised the lack of timely medical attention received by Scotlands Callum Hawkins after the marathon runner collapsed amid blistering conditions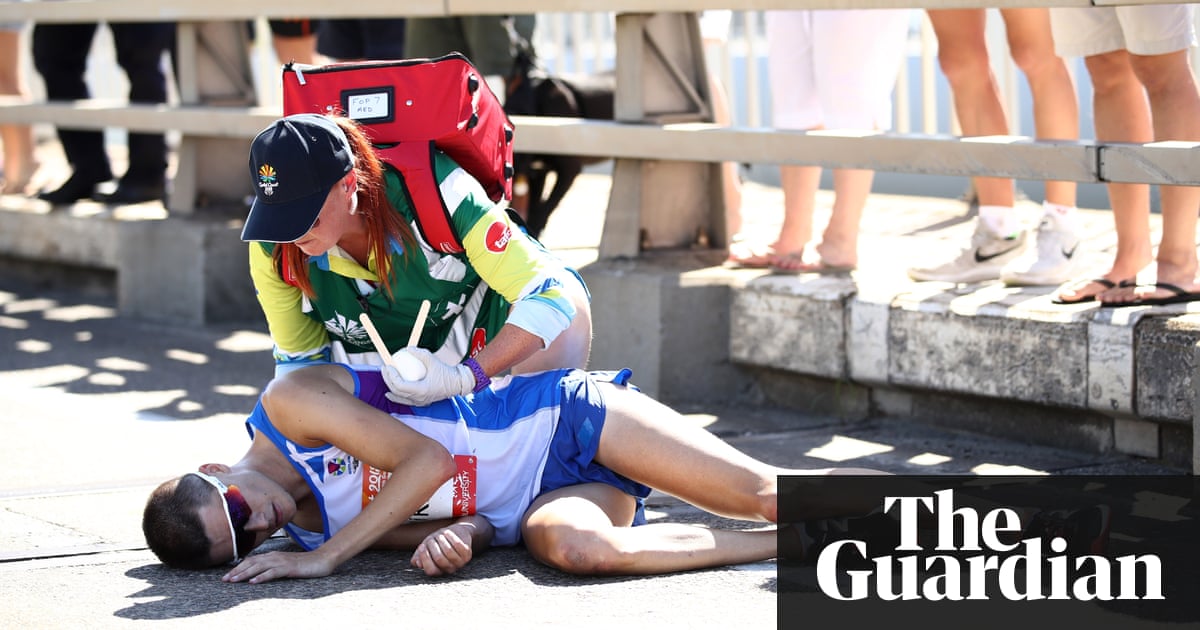 Commonwealth Games organisers were heavily criticised for not providing sufficient medical assistance to a Scottish marathon runner who collapsed but was not attended to by paramedics for several minutes.
Callum Hawkins was leading the marathon by almost two minutes and was less than two miles from the finish when he collapsed from heat exhaustion in 30 degree heat. The 25-year-old, who finished fourth at the World Championships marathon in London last summer, had looked set for gold but he began to sway in distress and fell over on the curb.
He managed to rouse himself and briefly continued but supported himself several times using the metal barriers lining the course. But he collapsed again shortly afterwards, hitting his head on one of the roadside barriers. Hawkins was taken to hospital and is sat up and talking with no obvious long term damage done but fellow athletes and former athletes were damning of how long it took for professional assistance to arrive.
Marathon world record holder Paula Radcliffe tweeted that there were big questions for the local organising committee and medical staff. That should never happen, she said.
Some spectators even took pictures of a stricken Hawkins with nobody seeming to offer any help. Commentating on the BBC, former middle distance runner Steve Cram said it was a disgrace that it took so long for any paramedics to attend to Hawkins.
Im just concerned for his welfare, Cram said, He hit his head on the barrier. Im sorry if youre watching this at home, its really distressing. Hes going to hurt himself and theres nobody anywhere near. We should have some more medical attention.
This is a guy in real distress and someone needs to recognise it for his health at this point. Where on earth is the help? You cannot just wait at the finish line. Theyve got radios. And finally somebody arrives. I think its disgraceful.
Mark Peters, Gold Coast 2018 chief executive, said: I like many others was distressed to see a wonderful athlete like Callum collapse during the closing stages of todays marathon. We are offering every assistance possible to Callum and Team Scotland.
Gold Coast 2018 has put in place a wide range of measures to ensure athlete welfare and the response of medical staff this morning was within agreed response guidelines and timeframes. I was also concerned about the behaviour of a small number of bystanders who chose to take images. This is not in keeping with the spirit of Gold Coast 2018.
Read more: http://www.theguardian.com/us